Manuel Rosales to turn Venezuela into tourism mecca
By Aleksander Boyd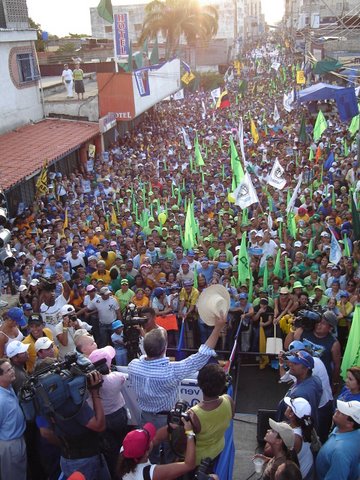 Porlamar 14.10.06 | Choosing Venezuela's best known tourist destination Manuel Rosales gave a press conference to inform about his new tourism plan. The plan will be structured in four themes: Island tourism, Sea $ Beach, Rainforest $ Nature and Andean tourism. The first will develop infrastructure in Margarita, Coche, Cubagua, Los Roques, La Blanquilla, La Orchila and other minor islands. The second will develop Venezuela's extensive Caribbean coast, which goes from Falcon state in the west to Sucre state located in front of Trinidad. The third will offer nature lovers deals in Bolivar, Delta Amacuro and Amazonas states and the Andean states of Merida, Trujillo and Tachira form part of the fourth theme. In Rosales' opinion it is time that Venezuela starts developing its unmatched potential for tourism in order to become a tourism mecca.
The press conference was followed by a rally where Rosales repeated his plan. I asked Mayela Suarez what did she think about the announcements "he's going to fix this mess" she said. "This island used to have other sources of income. My family lived for very many years on fishing, but since Diosdado Cabello bought Eveba enterprises (Venezuela's main tuna and sardines buyer) it has become increasingly difficult to live on it. We have had to turn to tourism for our income and Rosales' plan sounds good" she added. To solve the lack of qualified professionals higher education centres to cater exclusively for the hospitality industry will be built.
To kickstart this project calls to private investors will be made for "our goal will be much easier to accomplish with the participation of private investors" added Rosales.
The presidential candidate addressed local concerns promising to build a huge desalinization plant and granting neccesary licenses to local operators to take part in the tourism industry. A journalist reminded him of the unreasonable position of the central government that has blocked the opening of an important port here in Margarita to which he replied by saying that he's a son of descentralization and in his government local issues, budgets, policies, etc. will be handled by local authorities, as opposed to the ominous control that Hugo Chavez has.
send this article to a friend >>