Venezuela - U.S. blocks Spanish aircraft deal
By John Sweeney
Miami , October 25 – Venezuela 's government considers "unacceptable" the reported decision by the U.S. government to block the sale by Spain to Venezuela of 10 EADS CASA C-295 military transport aircraft, Venezuelan Integration and Foreign Trade Minister Gustavo Marquez said on Oct. 25 in Caracas . Marquez protested that the U.S. government's action was an infringement on Venezuela 's sovereignty, and also demonstrated that the U.S. does not practice the free trade it preaches.
U.S. and Spanish government officials have not commented the issue publicly. However, Marquez's remarks indicate that the Chavez government has not done its homework in terms of evaluating how the global arms industry works, and identifying which countries have relationships with the United States that can be leveraged by Washington, D.C. to block transactions of advanced dual-purpose technology, weapons systems and other military equipment that is not manufactured in the U.S.
The Spanish-made C-295 aircraft is a good example. The aircraft is powered by two Pratt & Whitney Canada PW127G turboprops, and some of its avionics technology is also owned by U.S.-owned firms. Under the technology transfer contracts underpinning the use of the P&W turboprop engines and other U.S.-source avionics technology in the C-295, the U.S. government retains the right to block the sale of such technology to third party buyers if it deems the buyer to be a threat to U.S. interests or the interests of other countries the U.S. considers allies. Now it appears the U.S. government has exercised its legal rights to thwart President Hugo Chavez's plans to acquire 10 advanced transport aircraft that could be used to air-drop a battalion of 480 paratroopers or a reinforced battalion of 730 infantry troops that would deplane on the ground.
The U.S. decision to block the Spanish government's planned sale of the C-295 aircraft to Venezuela sends a strong message of official U.S. displeasure to both the Chavez and Zapatero governments. The Bush administration views the Chavez government as a potential threat to its neighbors. Owning a fleet of C-295 air transports would give Chavez's military the capability to deploy troops quickly to other countries like Colombia or Panama . The transports also could be used to fly Venezuelan troops to Cuba , or bring Cuban troops to Venezuela . The U.S. won't permit Venezuela to own military systems that officials in Washington believe could be used someday to threaten U.S. strategic interests.
Losing the C-295 deal won't derail Chavez's military modernization plans too much. He can still shop for military air transports in Russia , China or even Brazil . However, the loss still hurts. The C-295 is a top-of-the-line military transport aircraft. The C-295 retains the basic characteristics of the EADS CASA CN-235 (see below), but it has been improved with more payload and range, with a new power plant carrying more than 50% payload over similar distances. The length of the cargo cabin has been increased by 3 meters, to 12.70 m. The aircraft has a crew of two, and can carry up to 48 paratroopers or 73 infantry soldiers, five 88"x108" standard pallets or up to 24 stretchers for medical evacuation. It has excellent low-level flying characteristics for tactical penetration, a maximum payload in excess of 9 tons and a maximum cruise speed of 480 km/h.
The C-295 has a range of 1,455 km with maximum payload, 4,969 km with a 4,000 kg payload at normal take-off weight, 4,167 km with a 6,000 kg payload, and 2,150 km with an 8,000 kg payload. CASA hopes to sell 300 C-295 aircraft over a ten-year period.
Specifications

Dimensions

Length

24.45 m

80´ 3"

Wing Span

25.81 m

84´ 8"

Cabin Length

12.69 m

41´ 7"

Cabin Height

1.90 m

6´ 3"

Cabin Width

2.70 m

8´ 11"

Weights

Maximum Take-off Weight

23,200 kg

51,146 lb

Maximum Landing Weight

23,200 kg

51,146 lb

Maximum Payload

9,700 kg

21,385 lb

Maximum Fuel

7,650 l

2,019 US Gal

Number of Fully Equipped Troops

78

Number of 88´ x 108´ Pallets

5

Performances

Maximum Cruising Speed

260 ktas

Take-off distance (S/L, ISA, MTOW at 50 ft)

962 m

3,156´

Landing Distance (S/L, ISA, MTOW at 50 ft)

774 m

2,541´

Maximum Range

5,278 km

2,850 nm

Range with full Load

1,333 km

720 nm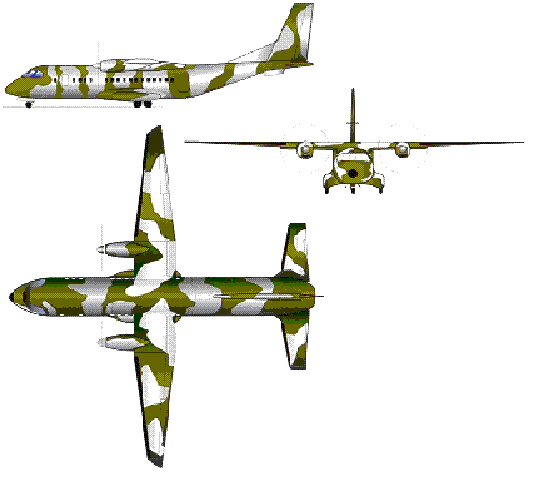 The CN-235
The Chavez government also wants to purchase two CN-235 aircraft for maritime patrol missions. The CN-235 is a high wing, pressurized, twin turboprop tactical transport aircraft capable of operating from short, unpaved runways. It is in military service in more than 20 countries worldwide and enjoys an excellent reputation for mission versatility, minimal support requirements, safe and reliable operation in all kinds of environments and low operating costs. It can carry a maximum payload of 6,000 kg and its maximum cruising speed is 455 km/h.
The CN-235 is considered by military experts to be an ideal complement to the C-130 Hercules. Its large cargo hold and in-flight operable rear ramp allow easy loading of bulky cargo, including standard 88"x108" pallets, light vehicles or combat aircraft engines. The CASA CN-235 can airdrop loads using low altitude (LAPES) or high altitude (HAD) delivery techniques. Up to 43 paratroopers can be air dropped through the two rear side doors or the ramp. For medical evacuation missions, it accommodates up to 21 stretchers with four attendants.
The CN-235 was initially the result of a cooperative program between CASA and IPTN of Indonesia. However, in recent years CASA has independently developed its own series and versions of the basic design, with continuous improvements in payload, overall performance and maintenance features. The CASA versions of the CN-235 have gained civil certification by the FAA in the U.S. , the European JAA and Australian CAA.
Technical Data EADS CASA CN-235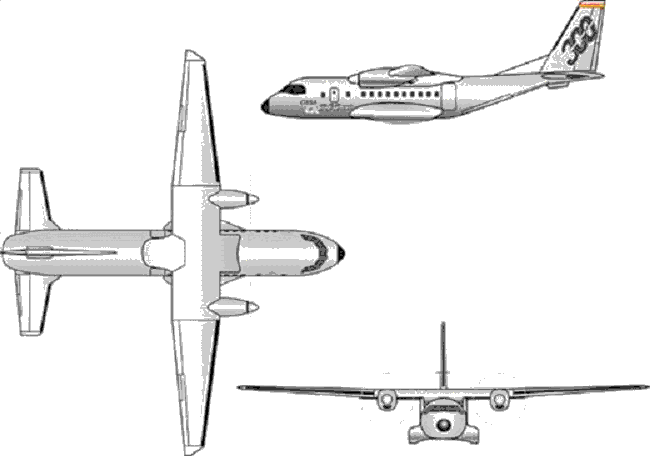 Dimensions
| | | | |
| --- | --- | --- | --- |
| Length | 21.40 m | 70 ft | 2 in |
| Wing Span | 25.81 m | 84 ft | 8 in |
| Cabin Length | 9.65 m | 31 ft | 8 in |
| Cabin Height | 1.88 m | 6 ft | 2 in |
| Cabin Width | 2.70 m | 8 ft | 11 in |
Weights
| | | |
| --- | --- | --- |
| Maximum Take-Off Weight | 16,500 kg | 36,376 lb |
| Maximum Landing Weight | 16,500 kg | 36,376 lb |
| Maximum Payload | 6,000 kg | 13,227 lb |
| Fuel Capacity | 5,264 kg | 1,391USGal |
| Number of Fully Equipped Troops | 51 | |
| Number of 88" x 108" Pallets | 4 | |
Perfomances
| | | |
| --- | --- | --- |
| Maximum Cruising Speed | 455 km/h | 246 ktas |
| Take-Off Distance to 50 ft (S/L,ISA,MTOW) | 754 m | 2,472 ft |
| Landing Distance from 50 ft (S/L,ISA,MTOW) | 603 m | 1,977 ft |
| Maximum Range | 5,003 km | 2,700 nm |
| Range with 4.000 kg Payload (8,800 lb) | 2,870 km | 1,550 nm |
Power Plant
| | |
| --- | --- |
| Engines | 2 x General Electric CT7-9C3 of 1.750 SHP each one |
| Propellers | Hamilton Standard 14RF-37, (four bladed) |
send this article to a friend >>