Venezuela's Hugo Chávez: "Being Rich is Bad, Very Bad…"
Por Orlando Ochoa Terán | Quinto Dia
02.05.05 | Caracas | Posted originally 30 April 2005 | The accident in Miami of a super luxurious vehicle, whose value is $328.150, reveals another chink in the armor of PdVSA. This time round at the very center of its corporate command, from whence emanates an unmistakable odor while international news releases cast doubts on the transparency of CITGO´s marketing and management, Venezuela's energy minister Rafael Ramírez warns: "we're not going to cover up anything ... I don't care what hat you're wearing, I don't care who you are, heads will roll."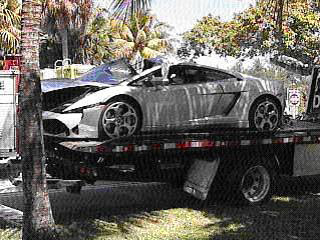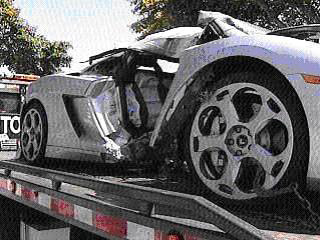 Command Center - NEW YORK Corporate Intelligence President Chávez Despises Wealth
That is what Chávez has said on numerous occasions. The latest display of disdain for wealth was stated by him at a meeting with business investors, and the phrase we are using to entitle our article has already been disseminated by international news agencies in most world business publications.
The Facts Appear to Prove Him Right
The more poverty increases, the more support he finds among the populace. Nobody has been able to scientifically explain whether this is an artifact of his presidential genius or whether it is a personality trait of Venezuelans, who, like Cubans, find solace in poverty.
In Cuba this idea has been so elaborated that Fidel Castro's recent decision to increase the minimal salary to 10 dollars a month, which is what an average professional was earning up until recently, must have met with resistance among his advisors because of its potentially negative effect on decades-long communist efforts aimed at making all the poor equally poor.
Don't Do as I Say
Nothing has contributed more to this program of stimulating poverty than the Bolivarian methodology known as "Tascón's List". Numerous individuals affected by this sordid character are now poorer and the massive segregation thereby created can only be compared in number to that of the genocide which took place in Rwanda, Somalia, Albania and Serbia, or to that of the racist felonies of the Ku Klux Klan in the US.
Obviously, this policy which exacts burdens of scarcity, or goods not available, is not shared by the revolutionary élite who do not take seriously the message coming from the supreme leader that warns: "This is the year for fighting and punishing the corrupt." Shortly after this menacing imprecation was heard, El Nuevo Herald, two weeks ago, denounced alleged irregularities at PdVSA which involve illicit activities amounting to hundreds of millions of dollars. The state oil company has not satisfactorily responded, nor has the announced law suit materialized, at least not as of the moment we write this article. Last week The New York Times, in an extended report, made claims that eight CITGO executives had been forced to resign during the last two years so as to avoid eventual litigation in the courts. The Energy Minister himself, Rafael Ramírez, denounced a number of other irregularities in Western Venezuela, particularly in human resources, but nobody tells him that on the payroll of the parent company a revolutionary like Héctor José Pernia, CI: 4.256.375, has raised his own salary from Bs. 3,226,590 to Bs.10,590,000 during recent years, while the employees of the national television channel VTV are having theirs lowered. When is it bad to be rich, when is it good? Concerning the denunciations made by El Nuevo Herald, the explanations given by Minister Ramírez to this weekly are unintelligible: "indeed we reserve our right to take legal action against what El Nuevo Herald says, because therein lie a number of tendentious manipulations of information, we are now elucidating whether or not it is true, but we reject it completely…" Last Sunday he was more lucid: "We are not going to cover up anything; we believe that corruption is not a new practice; but we are going to banish it from government enterprises, especially from PdVSA. With the same force as we now employ in our zero tolerance toward sabotage, we are not going to tolerate having any acts of corruption; I don't care what hat they are wearing or who they are."
Let us now put the Minister to the test and give him the benefit of the doubt, because no investigations have materialized concerning any of these serious denunciations.
The Venezuelan state oil company is being besieged from within and from outside by Venezuelans and foreigners.
The Toy
On Sunday, 17 April, before dawn, an accident occurred on Crandon Boulevard in Key Biscayne, in Miami, which draws us closer to seeing the chink in PdVSA's armor.
Two young men were involved in the accident and one of them, the passenger, died almost instantly when the vehicle veered to one side and rammed into a tree at a high rate of speed. The surviving driver, and supposed owner of the Lamborghini automobile, which was totaled (see photos), is a young Venezuelan by the name of Eudo Enrique Carruyo Perozo, who was transferred to the Jackson Memorial Hospital Ryder Trauma Center in Miami.
The relevance of this tragic mishap to the present topic rests on the fact that Eudo Enrique Carruyo is the son of the internal director of the Board of Directors of PdVSA, Eudomario Carruyo Rondón, CI 3.113.881, and the value of the Lamborghini Murciélago is $328,150. In 2004 Lamborghini sales were record-setting, and only 1,592 were sold throughout the world.
Curiously, the Miami-Dade Metro Police did not make available in its report the name of the victim or of the driver, who was transferred from the aforementioned hospital to a private clinic; nevertheless, there is evidence that Eudo Enrique Carruyo was placed in the custody of a county court in the jurisdiction of judge Jacqueline Hogan, and that his case was registered under number F05012548. The charge is manslaughter and bail was set at $100,000. The date set by the judge for the first hearing is 10 May of this year.
Poor But...
Young Carruyo is owner of a firm called Transatlantic Flight LLC, founded in 2004. According to information provided by PdVSA on its web page, internal director Eudomario Carruyo Rondón, entered the firm in 1964 and remained with the firm until his retirement in 1997, when he was immediately rehired until December of 2002. In that year he launches a new career in the area of finance, where he succeeded in getting posts as high as Executive Director of Finance for PdVSA in January of 2003, and as director of the subsidiaries CITGO Corporation, PdVSA Finance, PdVSA Insurance, PDV Holding, APJ International.
Carruyo is a current director of Finance, Data Systems, and Financial Economic Evaluations for affiliates and state-private mixed companies, and of the Business Unit for Industrial Products and of the Jose Operational Complex (State of Anzoátegui).
Together with his responsibilities at Pequiven, he is also a director of the following state-private mixed companies and affiliates: Fertinitro, Monómeros Colombo-Venezolanos, Metor, Produven, Super Octanos, Supermetanol, Tripoliven, Clorozulia, Coramer, Olefinas del Zulia, Polinter, Propilven, Pralca, Produsal, Serviferti, International Petrochemical Holding LTD (IPHL), International Petrochemical Sales Limited (IPSL), Copequim, Grupo Zuliano and Sofilago.
oochoa@quintodia.com.ve
Translation by W.K.
send this article to a friend >>