Five years of achievements in Venezuela
By Aleksander Boyd
London (12.12.03) - There are some extraordinary achievements attributable to Hugo Chavez and his so called social experiment in Venezuela. As some say "a picture says more than a thousand words". Thus, enjoy the pictures and the achievements!!
Here one can observe Venezuela's Vice-President in a rather cheerful mood, greeting supporters and having a laugh.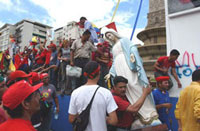 The sanctimonious chavistas take the statute of the Virgin for a procession.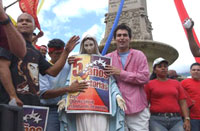 Not far from where the Vice-President was standing (actually less than 200 meters), this also rather happy crowd show a poster which reads "5 años de Victorias" or five years of victories. Please note that the poster is placed on the chest of the statute of the Virgin Mary, after completing the brief peregrination.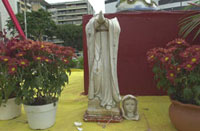 As the triumphant crowd left the premises of Altamira Square, the beheaded statute of the Virgin stands on its own. The morbid rabble not only decapitated it, moreover in a true democratic, respectful and honourable fashion they pissed on it and riddled with obscene graffiti the altar where it was placed, as shown below. When I have said that Hugo Chavez makes me feel ashamed of my idiosyncrasy this is exactly what I mean.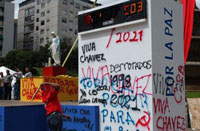 Long live the revolution!!
send this article to a friend >>